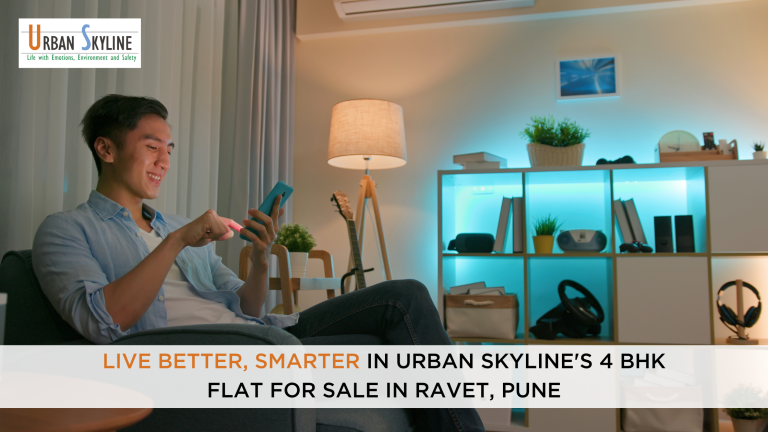 Urban Space Creators has launched a landmark project in Ravet integrated with modern technology and Design to create sustainable, comfortable, and efficient living spaces. These homes have automated systems controlling lighting, temperature, security, and other appliances. In addition, they use renewable energy sources such as solar panels and incorporate energy-efficient features like smart thermostats and insulation to reduce energy consumption and costs. The Design of these homes is focused on creating spaces that promote health and well-being, with features such as natural lighting, indoor air quality control, and ergonomic furniture. Living in a smarter home offers numerous benefits, including increased comfort, convenience, and savings while reducing environmental impact. Seeing a 4 BHK apartment for sale in Ravet, Pune? Check out Urban Skyline Phase 2, offering  4 BHK luxurious flats for sale in Ravet. 
Smart Design in 4 BHK flat of Urban Skyline phase 2 


Luxury 4 BHK flats in Urban Skyline Phase 2 are designed with the perfect blend of elegance and functionality. The Design of the apartments includes high-end finishes, modern amenities, and smart features to provide a luxurious living experience.
The living room is spacious and welcoming, featuring large windows. The flooring is made of premium quality tiles, providing durability and easy maintenance. 4 BHK units are designed to give maximum comfort and relaxation, with ample storage space and plush bedding.
Modern kitchens feature sleek cabinets and countertops, providing ample workspace. The bathrooms are designed with premium fixtures and fittings, providing a spa-like experience. The flat also features smart home automation systems, allowing residents to quickly control various aspects of their homes.
If you are seeking a 4 BHK flat for sale in Ravet, check out Urban Skyline Phase 2, offering a 4 BHK unit designed to provide a comfortable, luxurious, and intelligent living experience, making it the perfect place to call home.
Location Benefit 

Urban Skyline Phase 2 in Ravet, Pune, offers residents the advantage of living in a well-connected residential project with easy access to key locations in the city. Its prime location near the Mumbai-Pune expressway saves residents time and money commuting while enhancing their quality of life. The project's excellent connectivity also makes it an attractive investment option, with the potential for higher rental yields or appreciation in property value over time. Urban Skyline Phase 2 is also well-connected to important locations like the Hinjewadi IT hub, Talegaon MIDC, Chakan MIDC, Pimpri Chinchwad industrial zone, and Navi Mumbai.