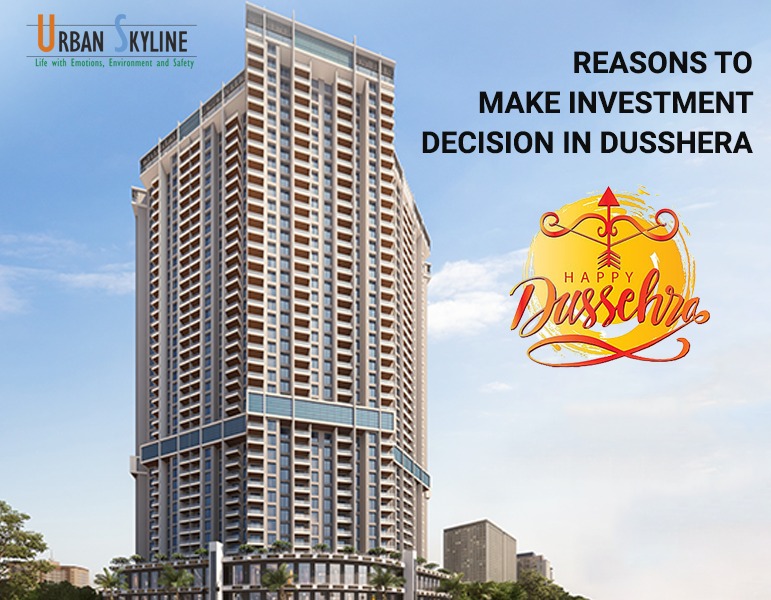 Owning a home is a major life milestone for us and we consider it as one of the evolutionary needs for stability, community, and neighborhood. Our Indian psyche is hardwired to buy home for financial security. For us, it is not about, whether to buy a home or not but more about when to buy. Dussehra is the best time to make your dream home, a reality. The reasons are simple. Property prices are at their lowest best. Developers roll out many lucrative offers during this festive season. Also, many builders and developers offer freebies and discounts like free parking or free clubhouse membership.
Best time to invest in Urban Skyline phase 2
Launched by Urban Space Creators, Urban Skyline phase 2 in Ravet is not just a place called home but a community where one can have the perks of unique amenities and the convenience of not traveling far for daily errands. One has the luxury of a swimming pool, gymnasiums, kids play areas and many more. There are no open roads with moving traffic thus making it safer for kids to play outdoors. It's easier for parents to monitor their kids as well.
Energy-efficient designs of the tallest towers of Pune
Solar heaters, rainwater harvesting features save a considerable amount on energy bills which adds to the benefits of living in the Urban Skyline phase 2. Also, this residential project is creating a healthier living environment by promoting water and electricity conservation and resorting to advance building science with eco-friendly materials.
Green environment making it easier than ever to live sustainably
In cities with thriving economies like Pune, living between green trees and forest greenery is a dream. In Urban Skyline phase 2, pocket parks give you the luxury of verdant green and a cool environment. The gated community of urban Skyline phase 2 is dotted with trees and shrubs ensuring clean air for breathing. The amenities like shops, hospitals, schools are close enough to visit on foot thus lessening the use of vehicles by the residents to reach their destinations.
Exclusivity and privacy in Urban Skyline phase 2
The biggest perk of living in Urban Skyline Phase 2 is safety and security. It ensures security by giving access to residents and verified guests. Here, one can have their own space away from the hustle of the city and intruders. One has the privilege of exclusivity and the overall well-being of their loved ones in well-designed interiors of this iconic identifier of Pune.
Summary: Owning a home is a financial goal and if you are considering buying a property, Dussehra is the best time to invest. In Urban Skyline Phase 2, Luxurious apartments for sale in Ravet, offer you a pleasant benefit of community living where festivals are celebrated and community events are held for residents to gather together enhancing the sense of familiarity. Intercom systems, CCTV, 24 hours surveillance in Urban Skyline giving the added advantage of secured living.