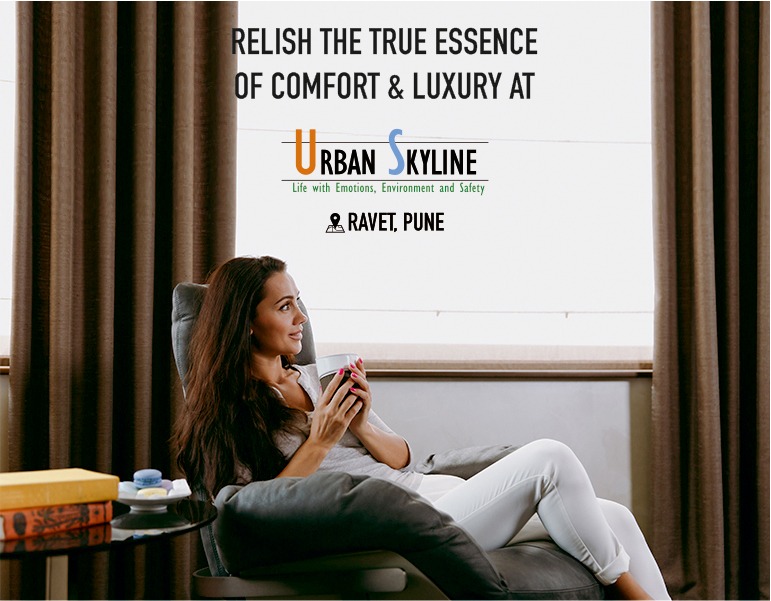 With changing times and changing trends, the definition of a luxurious lifestyle has changed. True luxury is more of modern conveniences, coveted location, an overabundance of space, unparalleled view, and a sustainable lifestyle. The tallest tower of Pune at 450 Ft, Urban skyline phase 2 in Ravet is the true representation of ultra-luxury apartments with modern lifestyles. Here 2,3,4,5 and 6 BHKS are packed with every contemporary necessity.
The view that lies outside the apartments
The residential project is surrounded by lush greenery and the interiors have been designed by high-end brands and big names in home decor. A pleasant view of greenery and no obstacle in your sight making it an uncontested tower of the city. You will find Mumbai -Pune expressway in its immediate surroundings and several parts of the city are laid in front of you.
What to expect in the Tallest tower of Pune at Urban Skyline
Spacious 2,3,4,5,and 6 BHKS
Not only does 6 BHK in Ravet at Urban Skyline define an overabundance of space but also 2,3,4 and 5 BHKS offering ample space with the best of meticulous layouts and demarcations of living spaces. With ultra-luxurious amenities, homes in the tallest residential building of Pune extend comfort and conveniences all at the same time.
Sustainable living with eco-friendly amenities
Landscaped gardens, herb gardens, oxygen emitting plants, rainwater harvesting, solar water system for green energy, and waste management giving a better living experience to the residents.
Location
The tallest residential building of Pune is positioned in Ravet, one of the most desired locations of Pune. Be it its proximity to the hospitals or education institutions or entertainment hubs, the tallest tower connects you to the city with ease.
Spectacular View
Wake up every morning gazing at sunrises instead of overlooking busy streets. Every window frame of these ultra-luxurious homes gives you a spectacular view of the city line.
Fortified security
From guest pre-registration using OTP to CCTV monitoring, security in the tallest residential building is fortified to the core. Upgraded means of security and advance technology offering complete safety from the outside world.
A remarkable set of indulgences
With an infinity pool, open-air party area, barbeque station as terrace amenities, and a huge range of podium floor amenities, the tallest tower setting the standard of luxurious living.
Summary
The tallest residential building of Pune effortlessly caters to the strong demand for luxurious living loaded with comfort and conveniences. An epitome of perfection, homes here represent exclusivity.