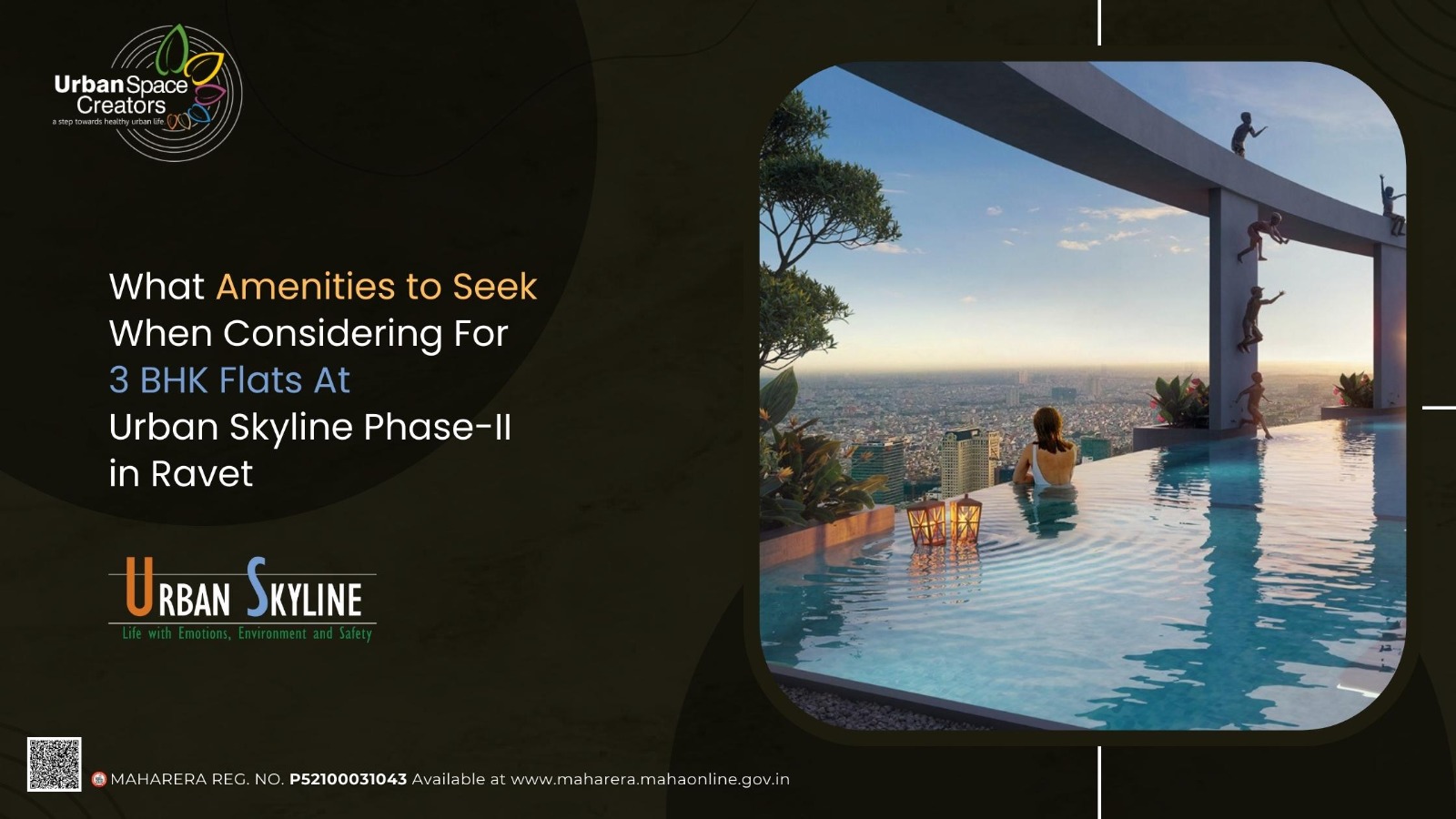 Finding a comfortable and spacious living arrangement for your large extended family can be quite challenging. A 2 BHK apartment may not provide the room needed for everyone, especially when you have family members spanning various age groups. However, the solution to this problem lies in the form of  3 BHK apartments in Ravet , Pune , which offers numerous advantages that can help you live expansively with your family.
Three Generations in One Flat
One of the most significant advantages of opting for  3 BHK flats in Ravet  is the ability to accommodate three generations under one roof. Such apartments typically provide enough space for your own bedroom, a separate room for your children, and another room for the elderly members of your family. This arrangement fosters a sense of togetherness and allows for more efficient care and support among family members.
Privacy and Independence
3 BHK apartments for sale in Ravet  offer the perfect balance between communal living and personal privacy. With three separate rooms, family members can enjoy their own space while still being close enough to interact with each other effortlessly. This arrangement is particularly beneficial for elderly family members who can have their privacy while feeling secure within the family home. Moreover, children can have their independent space, promoting a sense of responsibility and self-sufficiency.
Spaciousness for Comfort
When considering a new home, spaciousness should be a top priority. Your home is your sanctuary, where you unwind after a long day. A 3 BHK apartment in Pune provides ample room for a comfortable and relaxed lifestyle. This extra space allows you to create a cozy living environment where you can spend quality time with your loved ones.
Smart Living
The spaciousness of a 3 BHK apartment opens up possibilities for smart living features. You can transform your living space by incorporating modern amenities such as a stylish island modular kitchen, a home bar, and a luxurious living area. Urban Space Creators offer 3 BHK flats with these smart and luxurious features, allowing you to create a living space that reflects your lifestyle and taste.
Expansive Common Areas
In addition to spacious individual rooms, 3 BHK apartments often belong to townships or societies that offer extensive communal amenities. These may include open green spaces, yoga and meditation centers, children's play areas, swimming pools, and even amphitheaters. These amenities enhance your quality of life, providing space for recreation, relaxation, and social interactions. It's not just about having a spacious apartment; it's about enjoying a complete lifestyle.
Future-Proofing Your Home
A 3 BHK apartment ensures that you have room for expansion, accommodating new family members or changing needs without the hassle of moving or making major alterations to your living space.
 A 3 BHK apartment offers more than just rooms; it provides an opportunity for your family to live expansively, comfortably, and smartly. It's a place where three generations can coexist harmoniously, ensuring privacy, independence, and convenience for everyone. The spaciousness and amenities make it a future-proof investment that allows you to embrace a lifestyle of comfort and togetherness. So, if you're considering a new home for your large family, 3 BHK flats near Mumbai-Pune Expressway at Urban Skyline phase 2 in Ravet  is undoubtedly a choice that will enhance your family's quality of life.