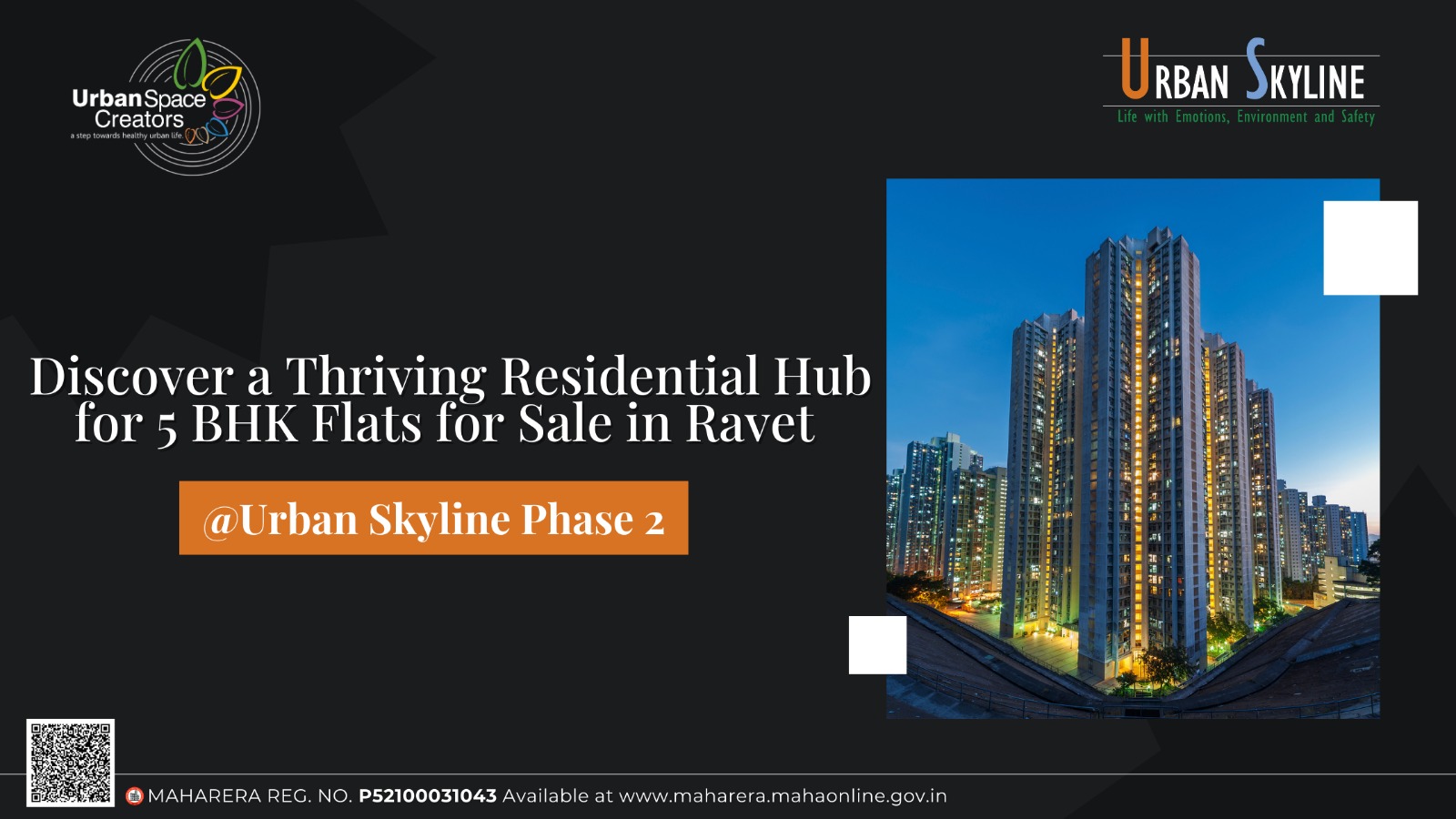 Ravet, a blossoming suburban area situated in the north-west periphery of Pune, stands at the confluence of the Mumbai-Pune Expressway and Katraj-Dehu Bypass Road (NH-48). As a part of Pimpri-Chinchwad and within the precincts of Pune Metropolitan Region, Ravet benefits from robust physical connectivity with the main city, fostering ease of access through a network of major roads and railway links. Moreover, it hosts a variety of renowned educational institutions, healthcare facilities, and commercial centers, making it an ideal residential choice for families seeking convenience and quality living.
A Gateway to Elevated Living in the Heart of Ravet
The proximity to key employment hubs, including the esteemed Hinjewadi Rajiv Gandhi Infotech Park and the industrial belt of Pimpri-Chinchwad, further enhances Ravet's allure as a thriving residential destination. Residents can enjoy the accessibility to various industries and businesses, creating a balanced lifestyle where work and leisure seamlessly converge.
Urban Skyline Phase 2, an upcoming project by the esteemed Urban Space Creators, epitomises luxury and sophistication in the heart of Ravet. Boasting a legacy of two decades, the group prioritises customer satisfaction and top-notch housing solutions. Strategically positioned near the Mumbai-Pune expressway, the residential complex is set to be one of Pune's tallest towers, featuring an impressive 40 floors. The project offers  2, 3, 4, 5, and 6 BHK homes, coupled with an impressive lineup of over 70 meticulously planned amenities that not only exude luxury but also promote eco-conscious living, thus reducing the carbon footprint.
5 BHK homes in Urban Skyline Phase 2 
The allure of the 5 BHK homes in Urban Skyline Phase 2, its meticulous floor planning enhances functionality and efficiency, providing residents with ample space to enjoy and utilize. The advantages of spacious living are further augmented by the host of amenities that add an extra layer of luxury and comfort. With the combination of lavish interiors and a plethora of well-curated amenities, flats for sale in Ravet, Pune at  Urban Skyline Phase 2 stands as the epitome of opulent living in the bustling vicinity of Ravet, promising a sophisticated lifestyle for discerning homeowners.
Summary 
As Ravet continues to thrive as a residential hotspot, the emergence of Urban Skyline Phase 2 stands as a testament to the area's evolution. Offering an array of opulent 5 BHK flats in Ravet, Pune, the project symbolises a harmonious blend of contemporary living and convenience. With its strategic location and a host of thoughtfully incorporated amenities, Urban Skyline Phase 2, Ravet, Pune  presents an unparalleled opportunity for luxurious living. Seize the chance to own a piece of the sky in the flourishing realm of Ravet, Pune, and embrace a lifestyle that exemplifies sophistication and grandeur. Discover the pinnacle of urban living with Urban Skyline Phase 2, where every moment is designed to elevate your senses and redefine your notion of luxury.