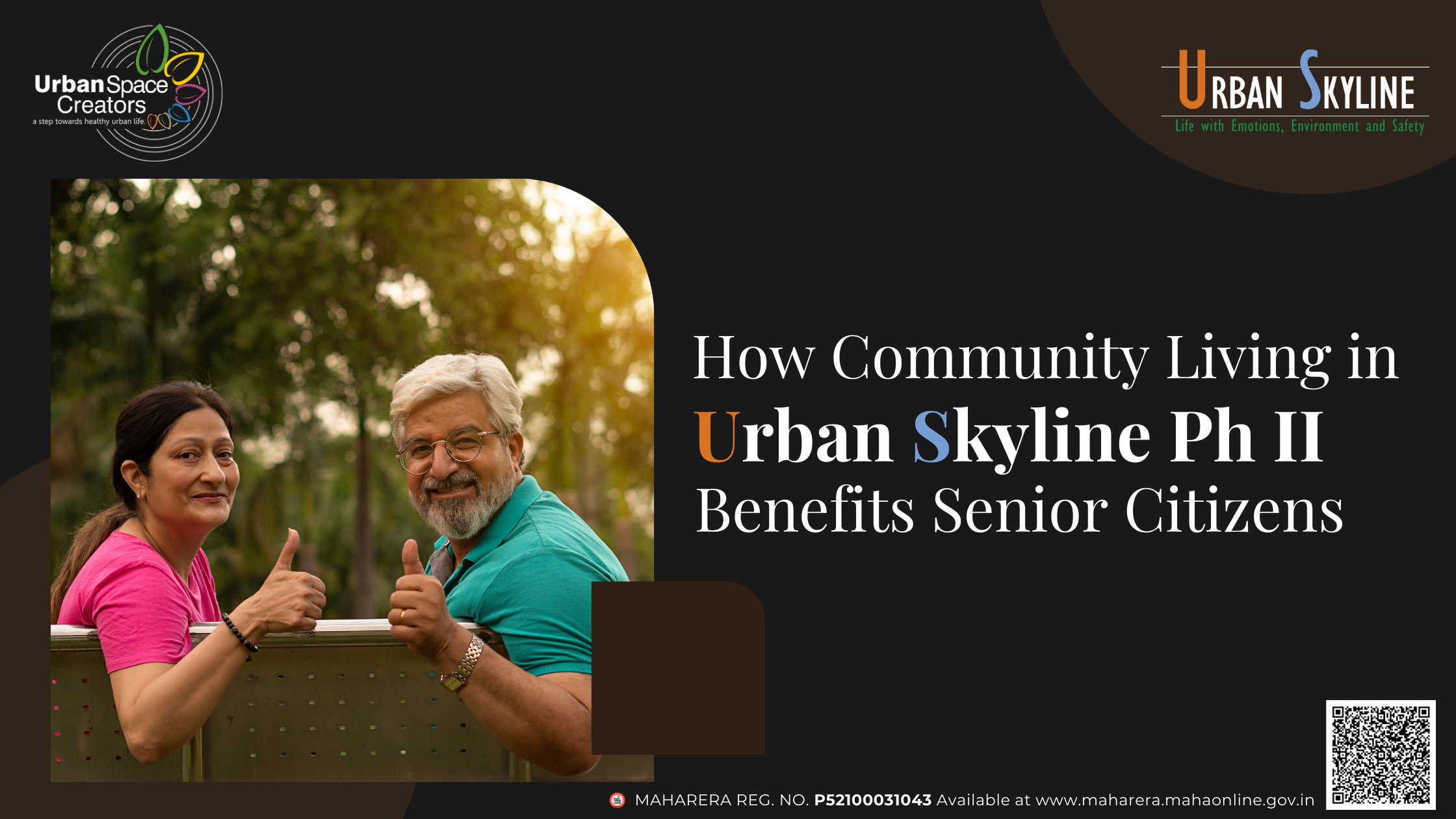 As the sun sets on a lifetime of hard work and achievement, many seniors face a unique set of challenges. Loneliness, maintenance woes, and security concerns can cast long shadows over their golden years. However, there's a silver lining to this cloud in the form of modern community apartments. Here, we will explore the myriad ways in which community living at Urban Skyline Ph 2 near Mumbai-Pune Expressway enriches the lives of senior citizens, providing them with a vibrant and fulfilling lifestyle.
Better Social Interaction
InUrban Skyline Ph 2 , you will find people of various age groups living together as one big family. This intergenerational mix is a fountain of social interaction for senior citizens. Whether it's sharing stories with young professionals or playing board games with fellow retirees, community living offers a diverse range of companionship opportunities. These interactions help keep the mind active and ward off age-related cognitive diseases such as dementia and depression.
Stress-Free Maintenance
One of the most significant advantages of living in a community apartment is the peace of mind that comes with it. Senior citizens no longer have to worry about fixing leaky faucets, or shoveling snow. This worry-free environment allows them to focus on the things they enjoy most.
Availability of Several Amenities
Modern apartment complexes are renowned for their impressive array of amenities. In Urban Skyline Ph 2, fully-equipped gyms and serene swimming pools to badminton courts, cricket grounds, parks, and community halls, these facilities cater to every age group.
Opportunities to Take Part in Several Group Activities
Community-oriented apartments foster a sense of togetherness. Whether it's volunteering, game nights, food festivals, or book clubs, there's always something exciting happening. Additionally, these complexes celebrate various occasions like Christmas and Diwali on a grand scale, ensuring residents never experience boredom. Participating in such activities keeps both the mind and body active, promoting a fulfilling lifestyle.

Round-the-Clock Security
Security is a primary concern for senior citizens, especially those living alone. In community apartments, such worries are minimized. These residential complexes invest in high-end security systems, including surveillance cameras, door and window sensors, and smoke detectors. With round-the-clock vigilance, residents can rest assured that their safety is a top priority.
Urban Skyline Phase 2: A Haven for Senior Citizens
Urban Skyline Phase 2, located near the Mumbai-Pune Expressway, offers a wide range of 3, 4, 5, and 6 BHK apartments. Developed by Urban Space Creators, this project boasts over 70 amenities catering to every age group. The community living experience here is tailored to provide senior citizens with a secure, enjoyable, and fulfilling lifestyle.
 Seniors looking for a vibrant and fulfilling lifestyle should consider community-oriented apartments near the Mumbai-Pune Expressway, like Urban Skyline Phase 2 near Mumbai-Pune Expressway , as their ideal retirement destination.