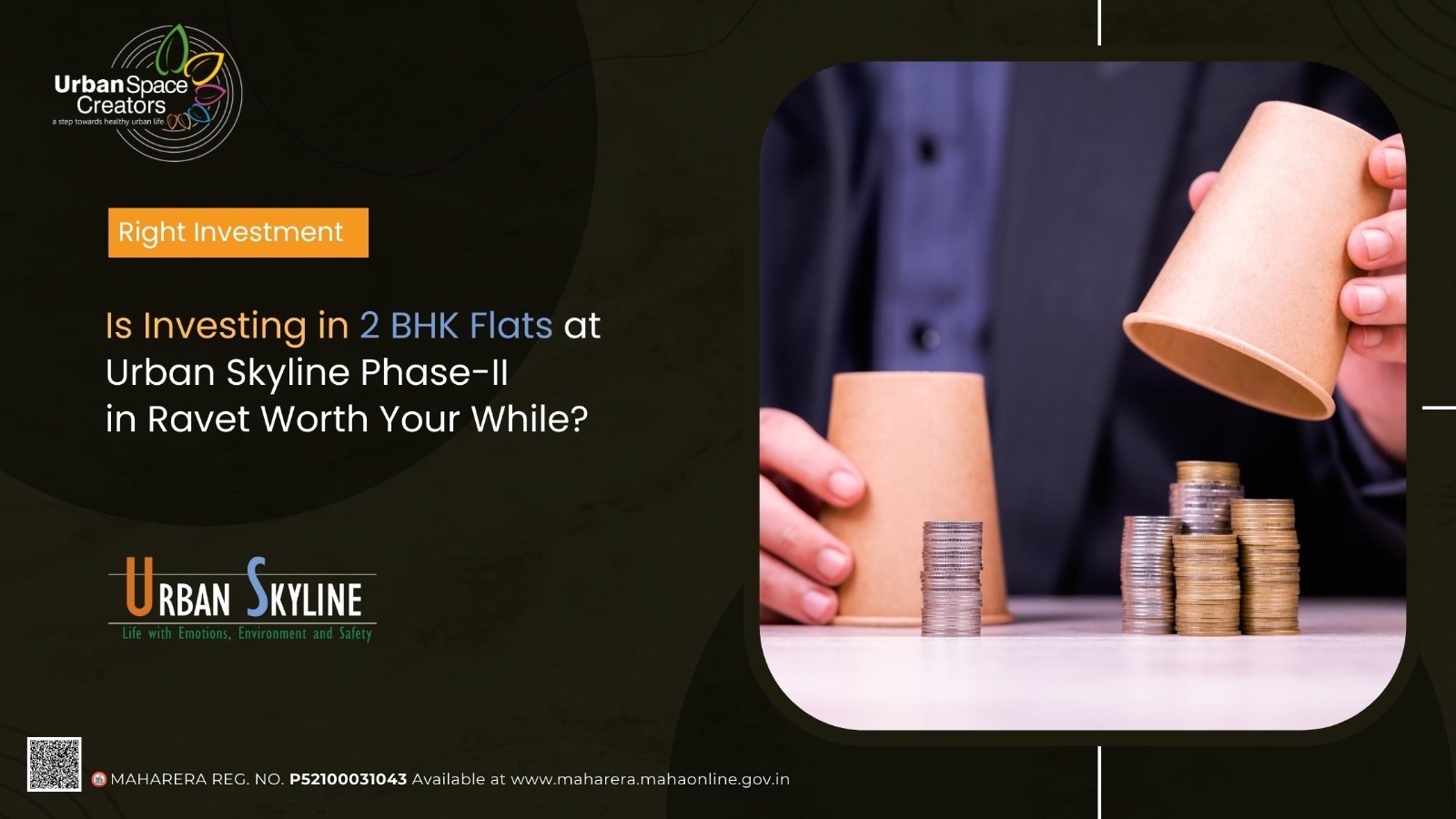 If you're considering real estate investment in Ravet, Pune, Urban Skyline Phase 2 might have caught your eye. This project, brought to life by Urban Space Creators, is currently under construction and offers an array of 2, 3, 4, 5, and 6 BHK apartments. But the big question is: Is investing in a 2 BHK flat at Urban Skyline Phase 2 really worth your while? Let's delve into the details and find out.
Location
One of the primary factors to consider when investing in real estate is the location. Urban Skyline Phase 2 boasts an enviable location, just minutes away from the Mumbai-Pune Expressway. This strategic positioning ensures excellent connectivity to both cities, making it an ideal choice for commuters and those who value accessibility.
Luxe Amenities at Your Doorstep
Urban Skyline Phase 2 doesn't just promise a roof over your head; it offers a luxurious lifestyle. From the podium to the terrace, this project is designed to pamper its residents. Let's take a closer look at the amenities on offer:
Rooftop Covered Glass Skywalk
Imagine strolling along a glass skywalk, high above the city, enjoying panoramic views of the surroundings. This unique feature is bound to add a touch of exclusivity to your daily routine.
Landscape Garden
For those who appreciate green spaces, the landscaped garden at Urban Skyline Phase 2 is a tranquil haven amidst the urban hustle and bustle. It's the perfect place to unwind and reconnect with nature.
Party Area and Barbeque Station
Entertainment is at the heart of this project. Whether you're celebrating a special occasion or simply craving a grilled meal, the party area and barbeque station have got you covered.
Infinity Pool
Cool off and relax in style with the infinity pool that offers stunning views from a height of 450 feet. It's a remarkable feature that sets this project apart.
Kids Play Zone
Families with children will appreciate the thoughtfully designed kids' play zone. It's a safe and fun environment for your little ones to enjoy.
Co-working Space and Indoor Games Room
For professionals working remotely or those who enjoy indoor games, the co-working space and indoor games room are essential amenities to have within the premises.
4-Layered Security Features
Safety is a priority at Urban Skyline Phase 2. With 4-layered security features, residents can have peace of mind knowing their well-being is safeguarded.
Medical Facilities
In times of emergencies, having quick access to medical facilities is crucial. Urban Skyline Phase 2 offers 24-hour ambulance services and wheelchairs for any medical requirements.
Eco-friendly Features
For the environmentally conscious, this project incorporates eco-friendly features such as rainwater harvesting, solar heaters, and ample tree plantation. It's a step towards sustainable living.

Proximity to Educational and Healthcare Facilities
Another advantage of Urban Skyline Phase 2 is its proximity to schools, colleges, and healthcare facilities. Families with children can benefit from easy access to educational institutions, while everyone can enjoy the convenience of nearby healthcare services.
Investing in 2 BHK flats in Ravet  at Urban Skyline Phase 2 in Ravet is indeed worth considering. With its strategic location, lavish amenities, and commitment to eco-friendliness and security, this project offers a well-rounded and attractive package for potential buyers. So, if you're looking for a comfortable and luxurious living experience in 2 BHK Flats for sale in Ravet, Pune, Urban Skyline Phase 2 might just be the place for you.