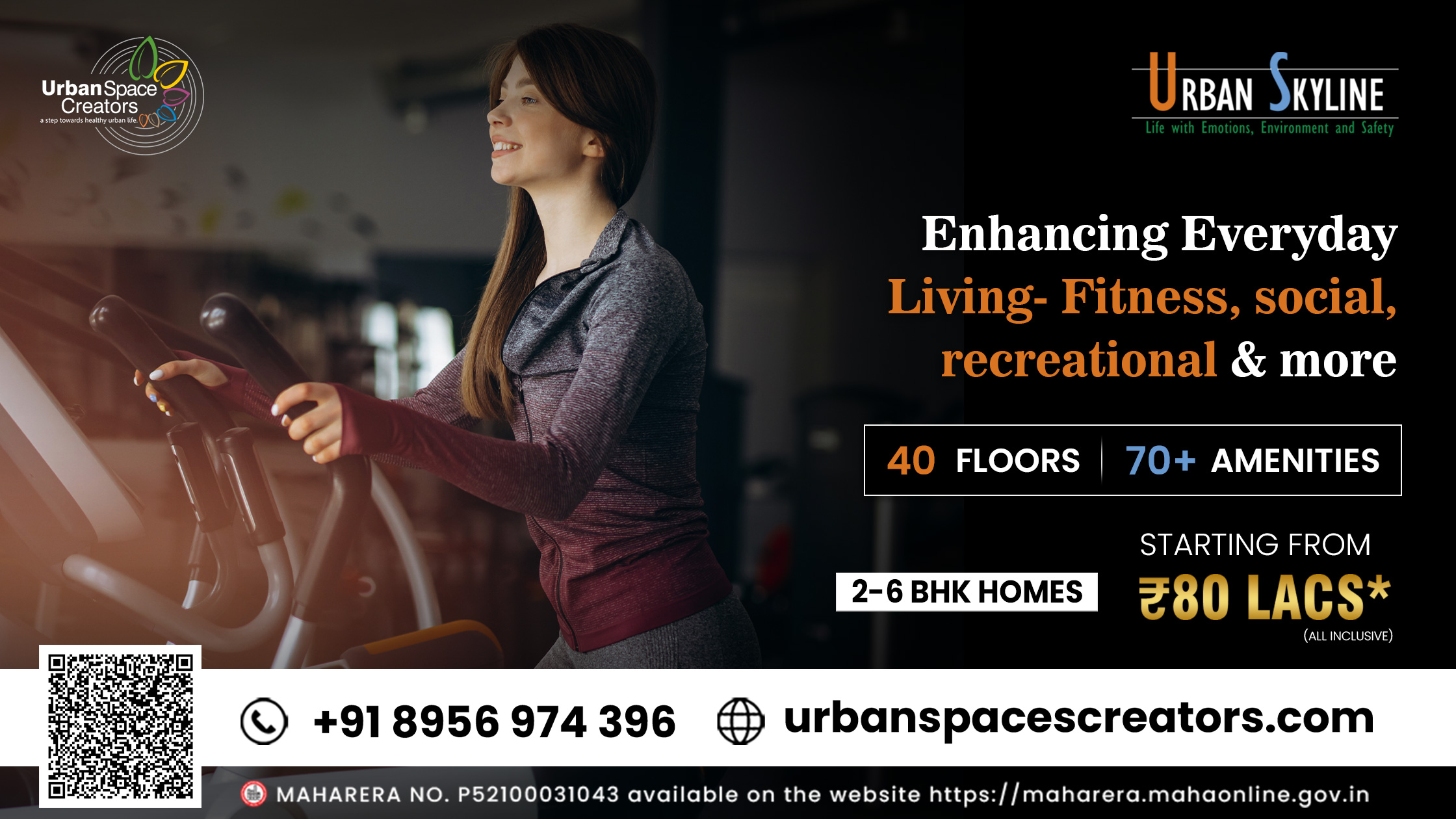 In bustling Ravet, a remarkable development is taking shape that promises to redefine urban living. Urban Skyline Phase 2, an upcoming project by the renowned Urban Space Creator, is poised to become the tallest building in the area, boasting an impressive 40 floors and an astounding array of 70+ amenities. This article delves into the myriad facets of this exceptional project, highlighting its significance in enhancing everyday living in Ravet.
Elevating Fitness and Recreation
Gymnasium 
One of the standout features of Urban Skyline Phase 2 is its state-of-the-art gymnasium. Catering to fitness enthusiasts of all levels, this well-equipped fitness center offers a diverse range of workout equipment for your fitness journey. With a focus on holistic health, it's the perfect place to sculpt your body and boost your overall well-being.
Indoor Games Area 
The project boasts a spacious indoor games area for those seeking indoor entertainment and recreation. Whether it's a game of table tennis, billiards, or foosball, residents can unwind and enjoy quality leisure time within the comfort of their own community.
Multipurpose Room 
The multipurpose room at Urban Skyline Phase 2 serves as a versatile space for a variety of activities. From hosting events and celebrations to conducting meetings or workshops, this room is designed to adapt to your needs, fostering a sense of community and convenience.
Coworking Space
Whether you're a freelancer, startup founder, or simply need a quiet place to focus, this space is designed to facilitate productivity and collaboration. The ergonomic furnishings and high-speed internet ensure you can work efficiently and comfortably.
Toy Library for Kids
For families with young children, the project features a delightful toy library. This innovative amenity is designed to spark creativity and imagination in kids.
Children's Play Area 
Urban Skyline Phase 2 leaves no stone unturned when it comes to catering to the needs of families. The children's play area allows kids to run, play, and create cherished memories. Surrounded by lush greenery, it's a secure and fun environment where children can thrive.
Book Library
Book lovers will appreciate the well-curated book library within the project. It's a sanctuary for those who seek knowledge, offering a wide range of genres and subjects. Whether you're an avid reader or simply looking for a quiet spot to read, this library is a treasure trove of literary delights.
Coffee Lounge
This cozy corner is perfect for engaging in meaningful conversations, catching up with friends, or simply savoring a moment of tranquility.
Safety and Security
Urban Skyline Phase 2 is equipped with a mobile verification system for visitors. This advanced security measure adds an extra layer of protection, giving residents peace of mind knowing that their loved ones are safe within the premises. The project employs access card entry for all common areas. 
Surveillance Cameras
Surveillance cameras are strategically placed throughout the premises, providing round-the-clock monitoring. This proactive approach to security further reinforces the safety measures in place, creating a secure haven for residents.
Prime Location 
Urban Skyline Phase 2 enjoys a strategic location with proximity to essential facilities:
Aditya Birla Hospital – Just 10 Minutes Away
City Pride School – Walking Distance
Akurdi Railway Station – A 5-Minute Commute
Bhakti Shakti Park – 10 Minutes Away
With an impressive array of amenities, a focus on security, and a prime location, Urban Skyline Phase 2, Ravet offers residents a holistic and fulfilling lifestyle. As the tallest building in the making, it symbolizes aspiration and progress in Ravet.
If you're looking to elevate your everyday living experience, Urban Skyline Phase 2 is the answer. Invest in a future where fitness, recreation, safety, and convenience converge to create the ultimate urban lifestyle.