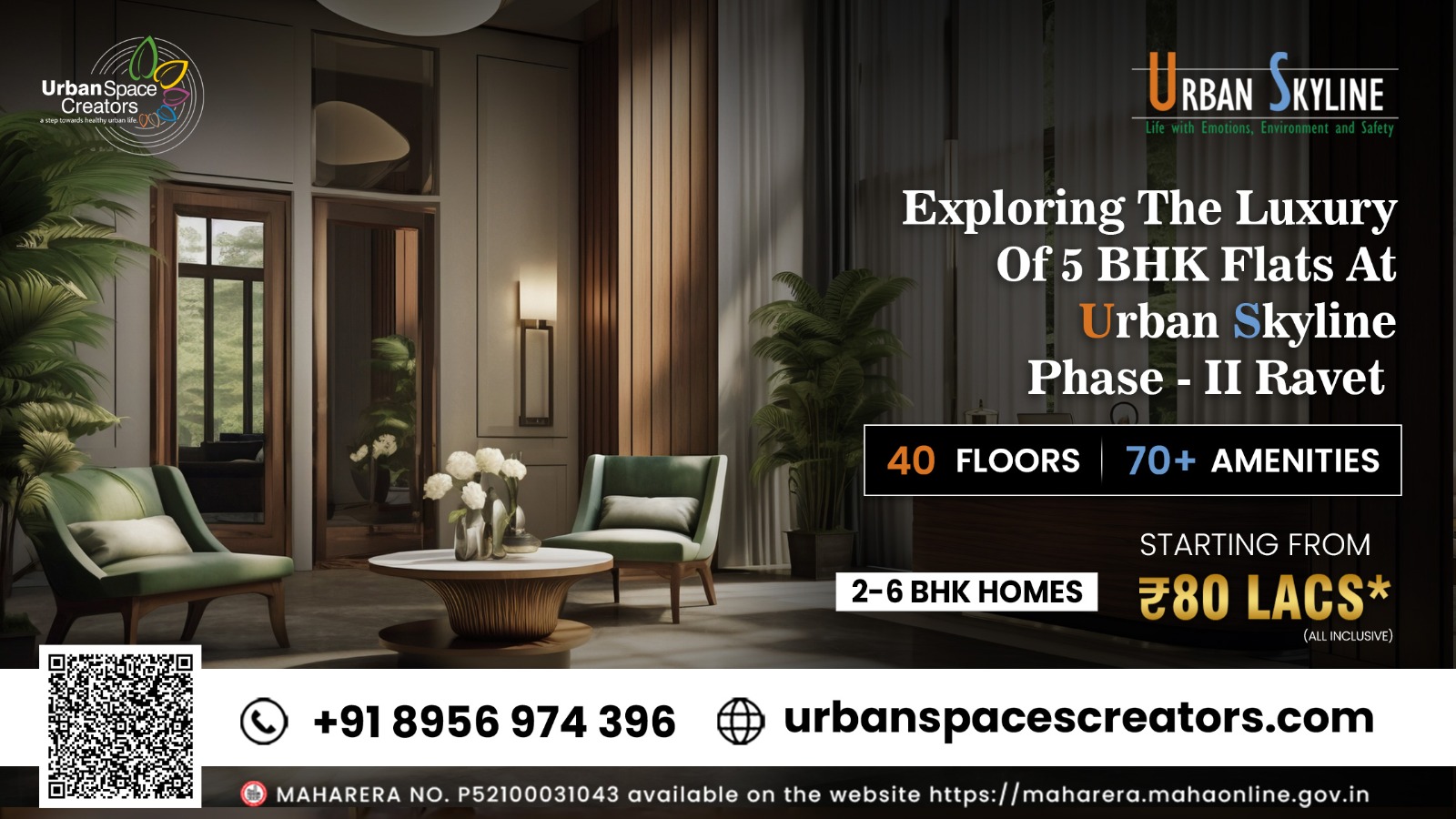 Urban living has always had a special allure, offering comfort, convenience, and luxury. Nestled in the heart of Ravet, one of Pune's most sought-after locales, Urban Skyline Phase 2 by Urban Space Creators beckons you to experience the epitome of opulence and elegance in the form of 5 BHK apartments. Let's delve into the world of Urban Skyline Phase 2 and explore why these 5 BHK apartments are the epitome of splendor.
A Glimpse into Urban Skyline Phase 2
Urban Skyline Phase 2 is a prestigious residential project under construction in the burgeoning locality of Ravet. Developed by the renowned Urban Space Creators, this project boasts an impressive array of 2, 3, 4, and 6 BHK apartments, but our focus today is on the opulent 5 BHK  at Urban Skyline Phase 2 Ravet. This project is not just about homes; it's about a lifestyle that redefines luxury living.
Opulent Features of 5 BHK Apartments
Spacious Interiors
These apartments are thoughtfully designed with expansive living areas, spacious bedrooms, and a well-defined dining area. The emphasis on space ensures that every family member has their comfortable retreat within the apartment.
Modern Amenities
One of the standout features of Urban Skyline Phase 2 is the abundance of modern amenities. From a state-of-the-art fitness center to a sprawling swimming pool and lush landscaped gardens, every amenity here is designed to elevate your lifestyle. Residents can unwind and rejuvenate without leaving the premises.
Designer Kitchens
The heart of any home is the kitchen, and Urban Skyline Phase 2 understands this sentiment. The 5 BHK apartments feature kitchens equipped with top-of-the-line appliances and ample storage space. Whether you're a culinary enthusiast or simply enjoy the convenience of a well-appointed kitchen, you'll be impressed.

Luxurious Bathrooms
The bathrooms in these apartments are no less than a spa retreat. They are impeccably designed and feature exquisite fittings, premium sanitary ware, and a soothing ambiance. It's the perfect place to relax and rejuvenate after a long day.
Panoramic Views
Urban Skyline Phase 2 offers breathtaking panoramic views of the cityscape. Imagine waking up to stunning vistas of Ravet every morning or enjoying a cup of coffee as you watch the sunset from your spacious balcony. The apartments are strategically positioned to make the most of these views.
Connectivity
Ravet's strategic location ensures excellent connectivity to major IT hubs, educational institutions, healthcare facilities, and entertainment zones. This makes Urban Skyline Phase 2 an ideal choice for professionals and families alike.
Urban Skyline Phase 2 in Ravet offers homes and a lifestyle that exudes splendor. If you aspire to live amidst opulence, where every day feels like a celebration, Urban Skyline Phase 2 is the address you've been searching for. It's not just a home; it's a statement of your success and taste.
So, why wait? Embrace the splendor of 5 BHK Flats for sale at Urban Skyline Phase 2 Ravet  and elevate your lifestyle.