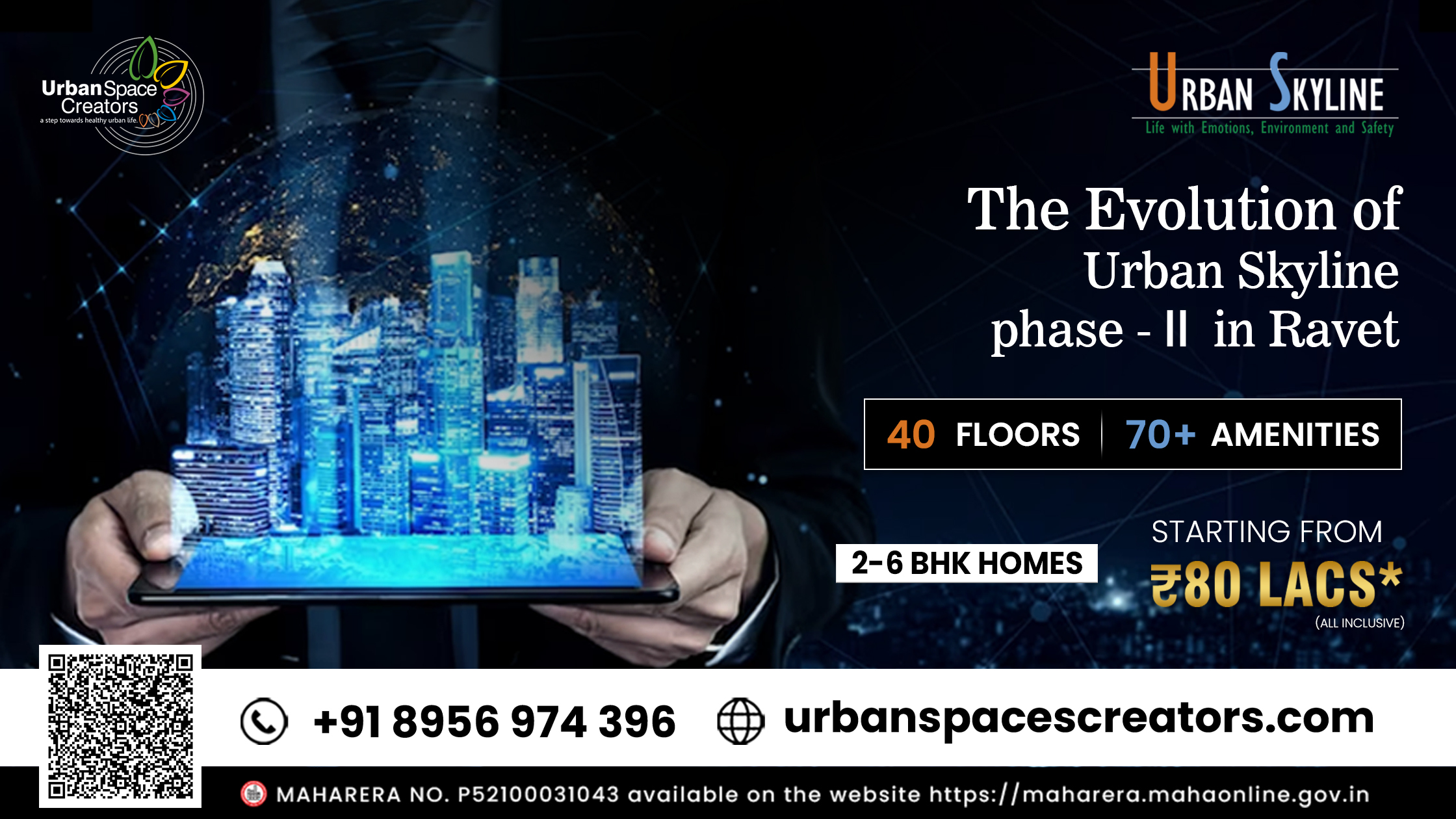 A remarkable project is making waves in the skyline in the vibrant city of Pune, where real estate is flourishing. Urban Skyline Phase 2, developed by Urban Space Creators, is set to become the tallest residential tower in Pune. Let's delve into the intriguing journey of this upcoming project, exploring its unique features, eco-friendly amenities, and its promise to redefine urban living.
The Genesis of Urban Skyline Phase 2
Urban Skyline Phase 2 Ravet  was born out of a vision to elevate Pune's real estate landscape. Urban Space Creators, renowned for their commitment to quality and innovation, embarked on this ambitious project to set new standards in residential living.
Reaching New Heights
The claim to fame is at the heart of this project's allure – it will be the tallest residential tower in Pune. This achievement is a testament to the engineering prowess of Urban Space Creators and a symbol of Pune's soaring aspirations.
So, what does it mean to be the tallest? It's not just about towering over the city; it's about reaching for the sky, offering residents breathtaking views that will leave them awe-struck every day.
Amenities Beyond Imagination
Eco-Friendly Luxuries
In a world that's increasingly conscious of environmental impact, Urban Skyline Phase 2 takes a giant leap forward. More than 70 eco-friendly amenities await residents, ensuring a sustainable and green lifestyle. The project's commitment to sustainability extends to every facet of its design. From energy-efficient lighting to water-saving fixtures, every detail is meticulously crafted to reduce the carbon footprint.
Rooftop Oasis
One of the project's standout features is its rooftop amenities. Imagine dipping in an infinity pool while gazing at the city's skyline or strolling through a meticulously landscaped garden in the clouds. These are the luxuries that Urban Skyline Phase 2 offers to its residents. The rooftop amenities are not just spaces; they are experiences that redefine leisure and relaxation. It's where the urban meets the ethereal, creating moments of pure bliss.
Thoughtful Living Spaces
Well-Planned Layouts
Beyond the heights and amenities, Urban Skyline Phase 2 places a strong emphasis on creating living spaces that are thoughtful and functional. The 2/3/4/5/6 BHK  Flats at Urban Skyline Phase 2 Ravet have a well-planned layout that attracts natural light and air, ensuring a bright and airy ambiance.
The spaciousness of the apartments is more than just a luxury; it's a design philosophy that promotes well-being. It's about having room to breathe, grow, and make a home your own.
So, are you ready to elevate your lifestyle to new heights? Urban Skyline Phase 2 in Ravet invites you to be a part of Pune's future, where luxury, sustainability, and innovation converge to create a living experience like no other.
If you're looking for more than just a home, if you seek a masterpiece in the making, Urban Skyline Phase 2 is where your journey begins. Join us in shaping the evolution of urban living in Pune.