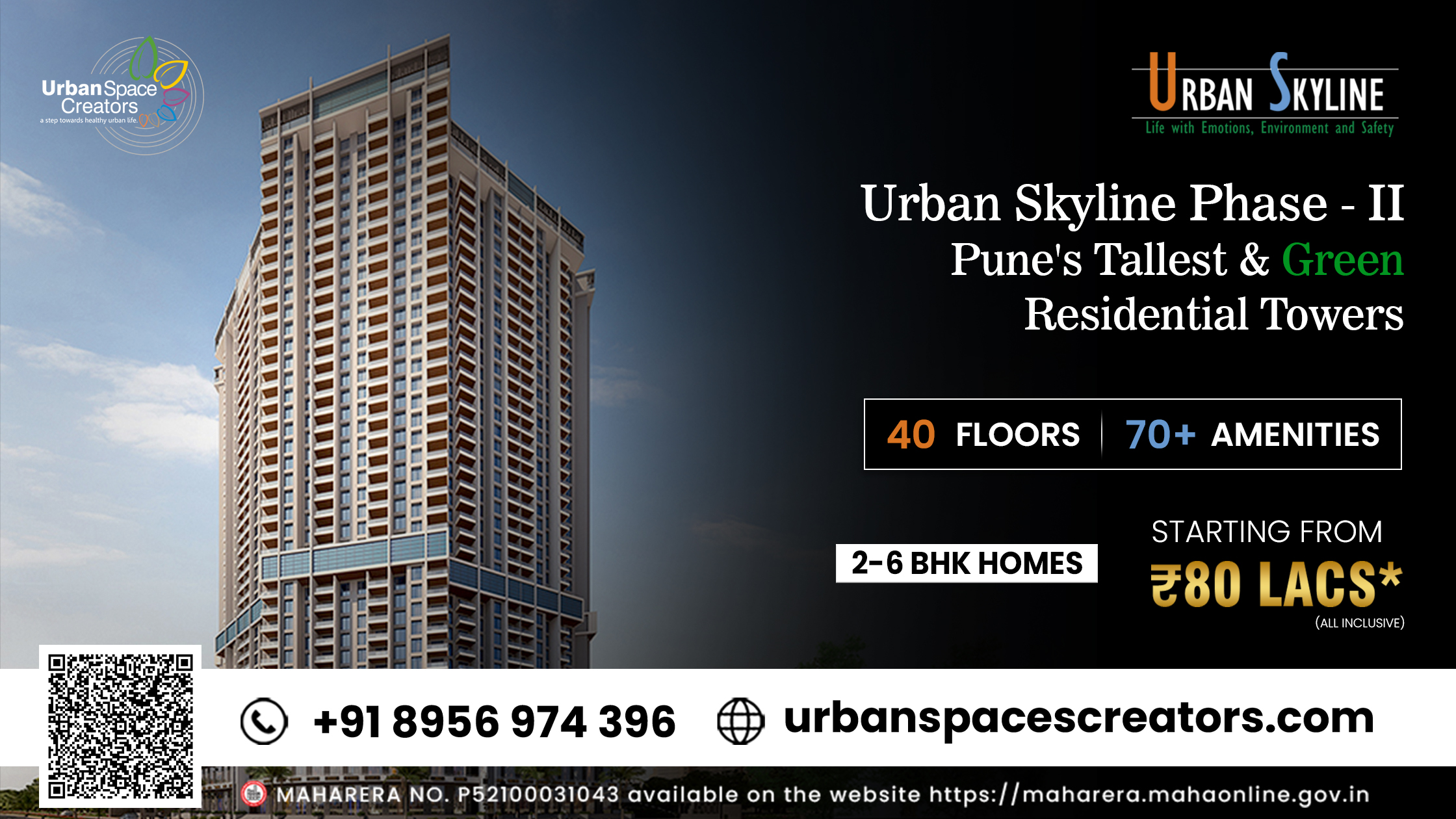 In the heart of the thriving city of Pune, a magnificent project is taking shape in Ravet that promises to redefine luxury living while embracing sustainable practices. Urban Skyline Phase 2, nestled in the vibrant neighborhood of Ravet, is poised to become Pune's tallest and greenest residential tower, reaching an impressive height of 450 feet across 40 floors. This project offers over 70 luxurious amenities and champions environmental consciousness with features like ample tree plantation, rainwater harvesting, a dedicated sewage treatment plant, garbage chutes, and an organic waste converter. Let's delve into the details of this remarkable development that aims to set new standards in urban living.
A Towering Marvel
Urban Skyline Phase 2 is all set to grace the Pune skyline as the tallest residential tower in the city. Standing at an impressive 450 feet, these towers will be a testament to modern architecture and engineering. With 40 floors, the development offers a variety of 2-6 BHK homes catering to the diverse needs of residents.
2 BHK Flats at Urban Skyline Phase 2 Ravet are designed to provide comfort and functionality, making them ideal for small families, couples, or individuals who appreciate contemporary living. With well-planned layouts and modern amenities, these 2 BHK flats offer an urban lifestyle within a serene environment. If you require more room to accommodate a growing family or simply desire more space for your daily activities, the 3 BHK flats at Urban Skyline Phase Ravet are a great option. 4 BHK Flats at Urban Skyline Phase 2 Ravet provide ample room for large families or individuals who value grandeur and elegance. With multiple bedrooms, a generous living area, and top-notch amenities, these 4 BHK flats offer a premium living experience in one of Ravet's most sought-after locations.
Luxurious Living, Redefined
The hallmark of Urban Skyline Phase 2 is its commitment to providing residents with a lifestyle of unmatched luxury. The project boasts over 70 world-class amenities designed to cater to every need and desire. From state-of-the-art fitness centers to serene landscaped gardens, from inviting infinity pool to vibrant community spaces, every aspect of Urban Skyline Phase 2 has been meticulously planned to elevate the living experience.
Embracing Sustainability
Its unwavering commitment to sustainability and eco-friendliness sets Urban Skyline Phase 2 apart. This project leads the way with a range of green initiatives:
Ample Tree Plantation
The Urban Skyline Phase 2 gated community is adorned with lush greenery, thanks to extensive tree plantation. The developers understand the importance of green spaces in urban living, and they have spared no effort in creating a verdant oasis for residents to relax and rejuvenate.
Rainwater Harvesting
Urban Skyline Phase 2 stands out by incorporating rainwater harvesting systems in a city like Pune, where water conservation is paramount. This eco-friendly practice conserves water and reduces the burden on municipal resources.
Dedicated Sewage Treatment Plant
For sustainable living, proper waste management is necessary. Urban Skyline Phase 2 includes a dedicated sewage treatment plant that ensures the responsible disposal of wastewater, minimizing the environmental impact.
Garbage Chutes and Organic Waste Converter
The convenience of modern living is harmoniously integrated with eco-friendliness through garbage chutes and an organic waste converter. These features not only streamline waste disposal but also promote the recycling and composting of organic waste.
24-Hour Oxygen-Emitting Plants
In a bid to enhance air quality and promote a healthier lifestyle, Urban Skyline Phase 2 is adorned with 24-hour oxygen-emitting plants. These plants add to the landscape's beauty and purify the air, making it fresher and more refreshing.
Urban Skyline Phase 2 is not just a residential project; it's a testament to modern luxury living and sustainable practices. With its towering height, lavish amenities, and environmental commitment, it is poised to become Pune's premier residential destination.