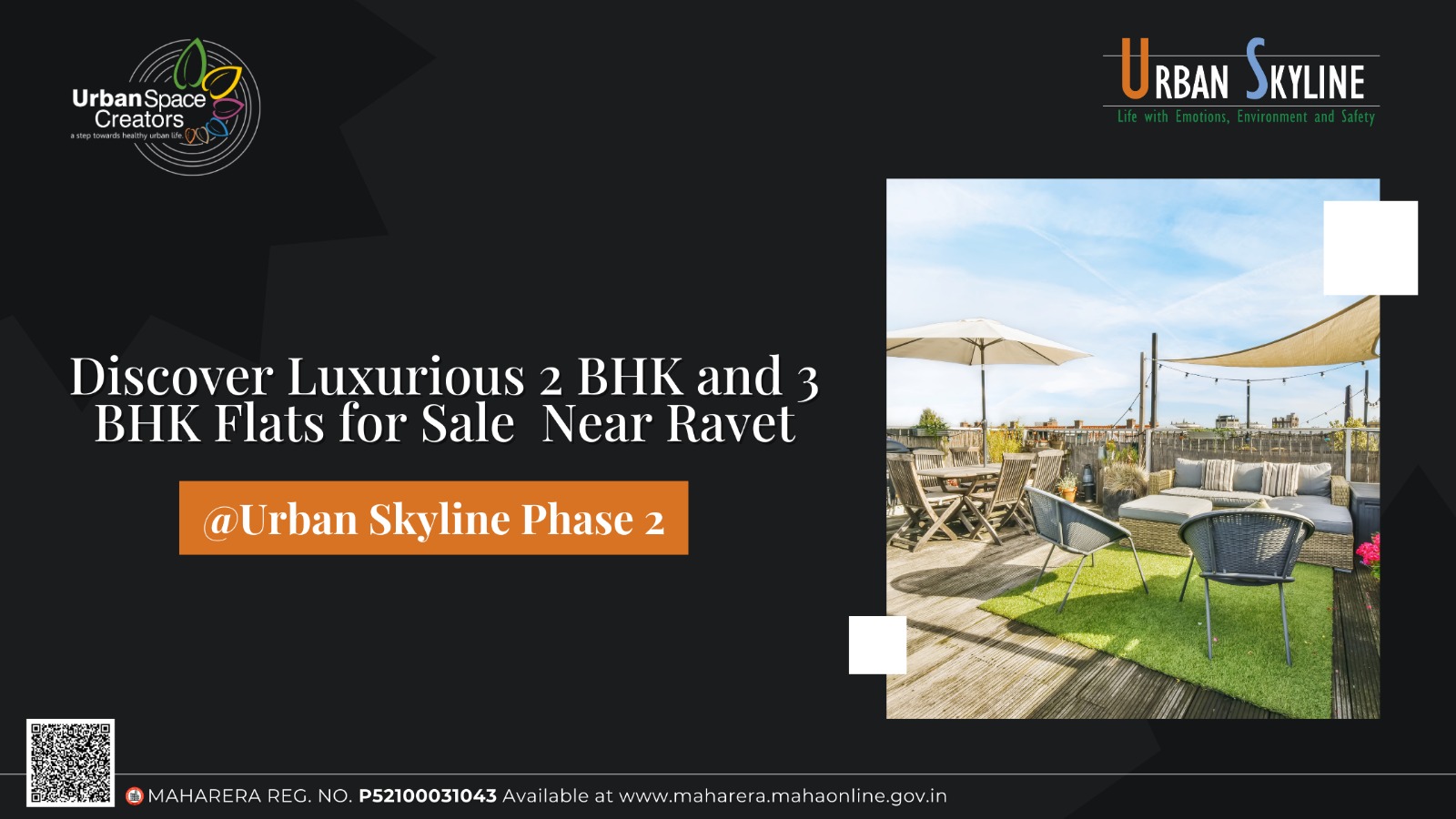 When it comes to choosing a luxury 2 BHK or 3 BHK home, several crucial factors warrant careful consideration. Firstly, the location plays a pivotal role in determining the convenience and accessibility of your daily life. Proximity to essential amenities like schools, parks, shopping centers, and public transportation is essential. A favourable neighbourhood with a peaceful environment and a well-thought-out floor plan can significantly impact your living experience. Additionally, setting a realistic budget, considering amenities and facilities, and ensuring the legal documentation is in order are vital steps in the decision-making process.
Urban Skyline Phase 2: Where Convenience Meets Elegance
Urban Skyline Phase 2, located near Ravet, encompasses  2 BHK and 3 BHK luxury homes that check all the boxes on your checklist. Situated in a strategic location of Ravet, this residential complex offers easy access to key areas and essential services, ensuring a seamless living experience. The meticulously designed floor plans provide ample space and create efficiency, catering to the diverse needs of modern families. With a range of thoughtful amenities and facilities, including ample parking, robust security systems, well-equipped fitness centers, and lush green spaces, Urban Skyline Phase 2 embodies a truly luxurious and convenient lifestyle. The project's legal documentation is meticulously organized and in compliance with all necessary regulations, ensuring a smooth and secure investment process for prospective homeowners.
2 BHK and 3 BHK Homes at Urban Skyline Phase 2
For those seeking an ideal balance between comfort, convenience, and luxury, the 2 BHK and 3 BHK homes at Urban Skyline Phase 2 offer the perfect solution. With a focus on providing an upscale living experience, these homes are designed to meet the requirements of contemporary living while offering a serene and tranquil environment for residents. The project's commitment to excellence, along with its adherence to legal standards and provision of top-notch amenities, makes it an ideal choice for individuals looking to invest in a luxurious and secure living space.
3 BHK residential  flats for sale near Ravet, at Urban Skyline Phase 2 presents an all-encompassing living experience that combines luxury, convenience, and tranquility. Offering a blend of meticulously designed floor plans, top-of-the-line amenities, and a strategic location, these homes ensure a lifestyle that meets the demands of modern living. Whether you're seeking a spacious 3 BHK or a cozy 2 BHK flats near Ravet, Urban Skyline Phase 2 provides the perfect abode for those desiring an upscale and comfortable living space.